All new LBP's will need to access their administrative portal in order to manage their employee parking subscriptions and billing information. Please follow the steps below to log-in for the first time.
Visit https://portal.metropolis.io/welcome.
Start by entering the work email address you provided during onboarding to request a login link. You'll receive an email where you can click "Get started" to begin the login process.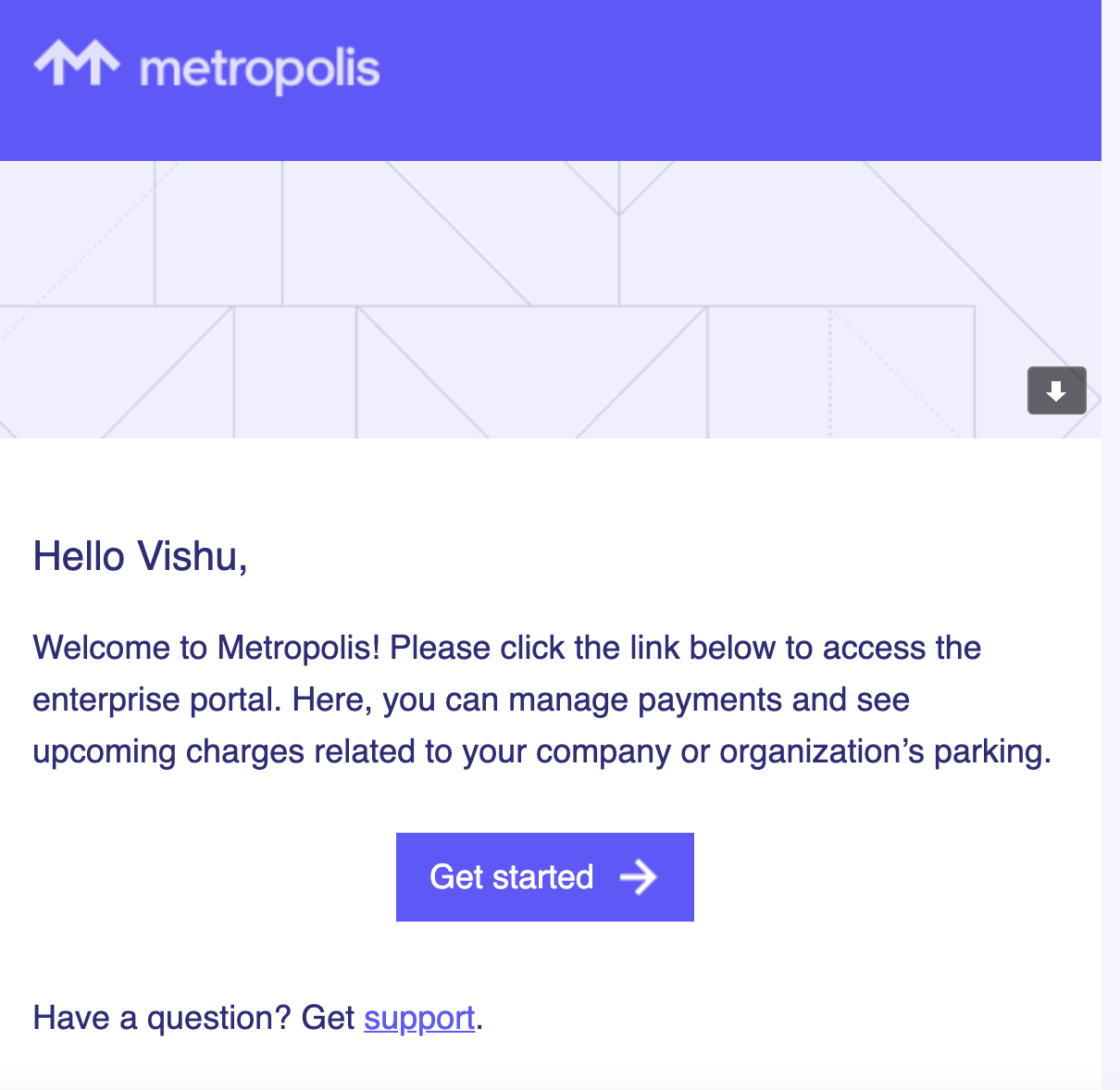 This should automatically open to your Metropolis Administrator Dashboard. You may want to bookmark this link to access this page easily when needed!
On the left hand side of the screen you will see the main menu, which lists the organization's name and address, followed by links to the Dashboard, Subscription, Billing, and Payment history pages.


Dashboard
At the top of the Dashboard page it displays the general information for your organization, as well as the primary account administrator's information.
This page will also show the next upcoming auto-renewal date, the total amount due on that date, and the current number of subscribed members.
From this page you can also click the "View Invoice" button to be taken to the Billing Management screen.
Subscriptions
The Subscriptions page will display a snapshot of your company subscription(s), including:
Date when it was originally Created

Location where it is valid

Current monthly Rate per person (or per space, in the case of Reserved subscriptions)

How many Members are presently enrolled

The activation Code needed in cases where traditional enrollment is not an option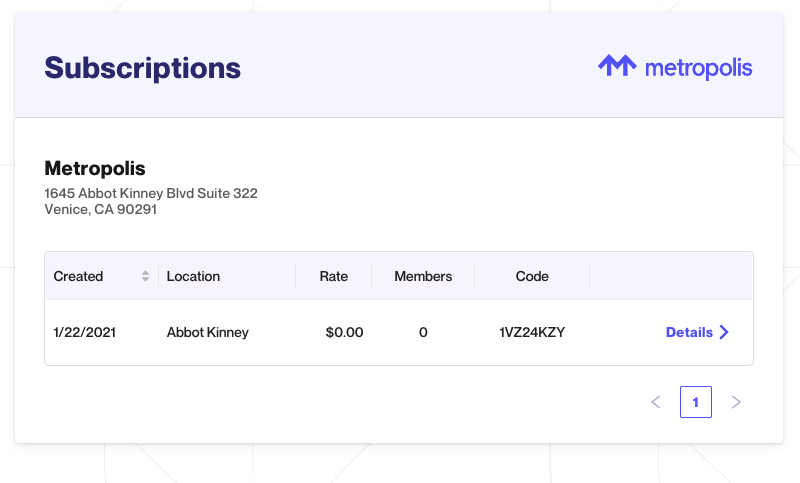 To see even more information regarding a particular subscription, you can push the "Details" button on any line to open the current roster of subscribers, including their registered contact & vehicle information.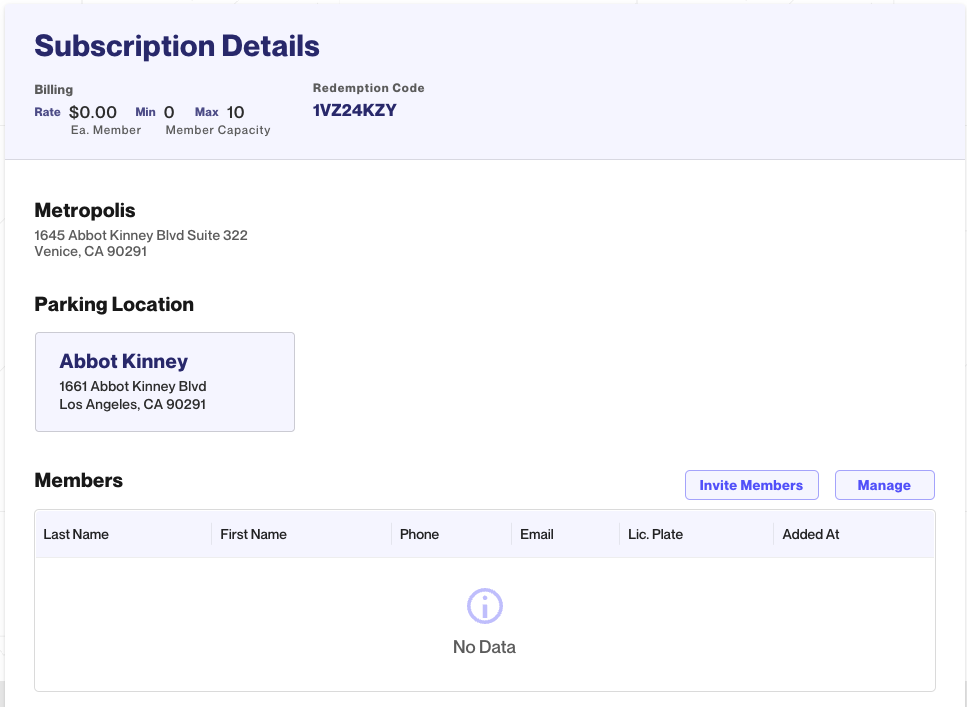 Here is also where you will find the "Invite Members" and "Manage" buttons, which enables you to add and remove members from your subscriptions.
Simply click the "Invite Members" button and then enter in the email address(es) of anyone whom you would like to add to your subscription. If they already have a Metropolis account, they will be added automatically by logging into their account through the link in the invitation. If they haven't yet signed up, they will be invited to do so and be added immediately upon completion of the registration process.
If for any reason your members are having trouble locating the invitation email, we find it can occasionally be diverted to the "spam" folder of their email client. If they continue to experience difficulty, they can instead add themselves by 1st registering for a personal account (which you can direct them to do here) and then entering your unique subscription activation Code from inside their "Company Subscriptions" menu.
The "Manage" button grants you the ability to remove anyone who no longer needs access. This will take effect immediately, so be careful not to remove someone in the middle of the day who may still need to leave later!
We do recommend logging in to check this list at least once a month (preferably at month's end), to ensure you are invoiced correctly when the new month begins.
Billing
The Billing page will display more in-depth information about any past due charges, upcoming charges, as well as your saved payment information (if applicable).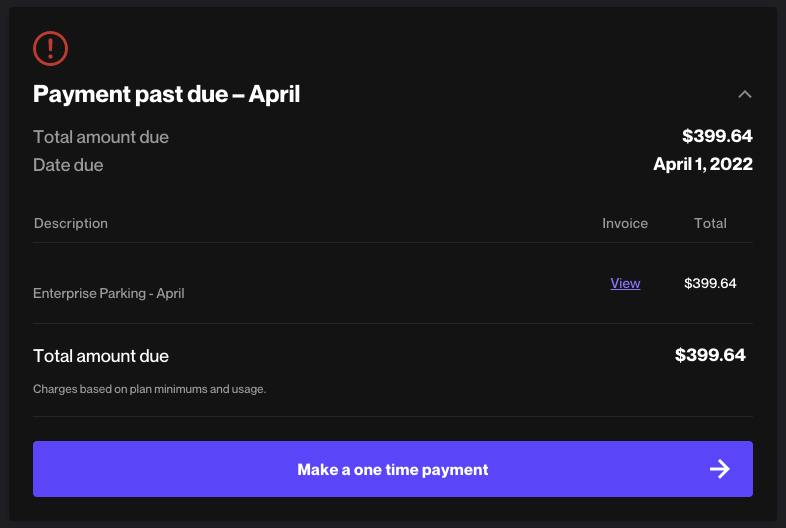 If there are any Past Due invoices open on your account, they will be listed in chronological order starting at the top of the page. These can easily be resolved using the "Make a one time payment" button found beneath each. Clicking this will take you to a new page where you will have the option to resolve the open balance using your saved payment method on file OR enter new payment information for a one-time charge.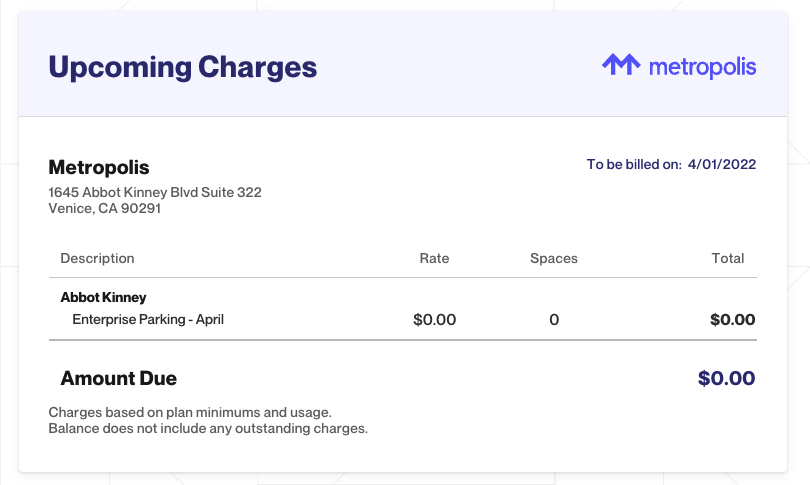 Under this section (or at the top if there are no outstanding invoices) will be the Upcoming Charges summary. This provides a brief breakdown of your next monthly bill. If you have questions or something looks amiss, please reach out to help@metropolis.io or your Local Ops representative for assistance.
Below this lies the current billing method for your account, including (if applicable) your saved payment information. Here you can add or remove bank account information, switch between ACH and credit card billing, and update everything as needed. You will also find the toggle for turning on or off Autopay, which allows for your monthly subscription to be charged automatically to the saved payment method on file.
Payment History
This is where you will want to come if you ever need to download or print a copy of a previous invoice. Simply click the dropdown next to the month in question and then click the "View" button to open a new page with that particular Subscription's Invoice.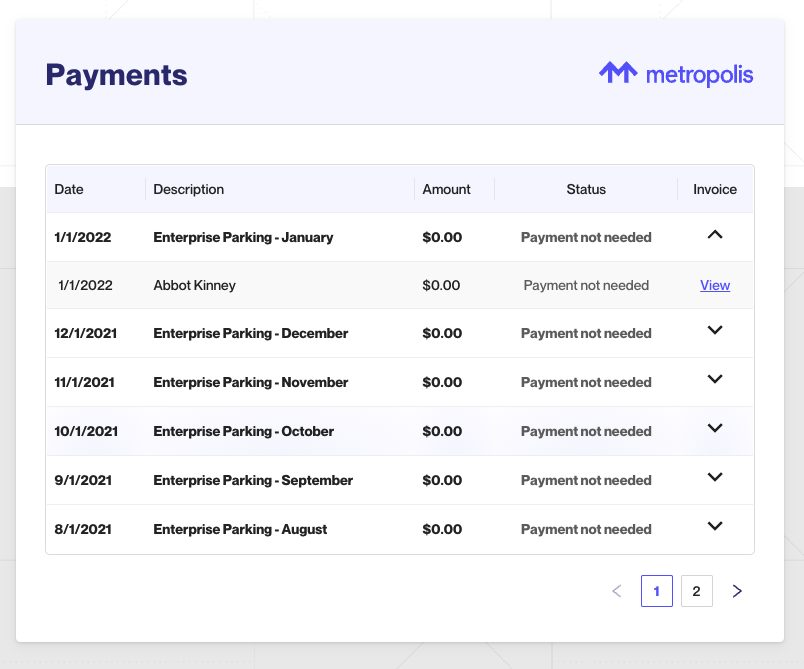 If you have additional questions, please contact us at help@metropolis.io.